Rent of Convention Hall in Barcelona
Our CONVENTION HALL is perfect for any type of event, has 100m2 of natural light and has a capacity of up to 100 people (50 seated), with direct access from the street. The great thing about this room is that it has direct access to our terrace, which you can also enjoy with your guests, this also with rest area.
Depending on the purpose of your meeting and the type of event you want to organize, we can configure the room one way or another, listening to your needs and requests at all times.
You can count on catering service, photocall, sound, photographer, musical performances… etc. Whatever idea you have, consult us and we can make it a reality, we have reliable suppliers who can carry out your requests, with the convenience of unifying all your expenses / payments in a single supplier.
Our room has:
75-inch screen where you can project your presentations or any audiovisual support (connection through HDMI cable or Chrome cast)
Blackboard
High-speed Internet; wifi and network connection.
Access to GBC by means of access control system.
Attention and reception of your visits.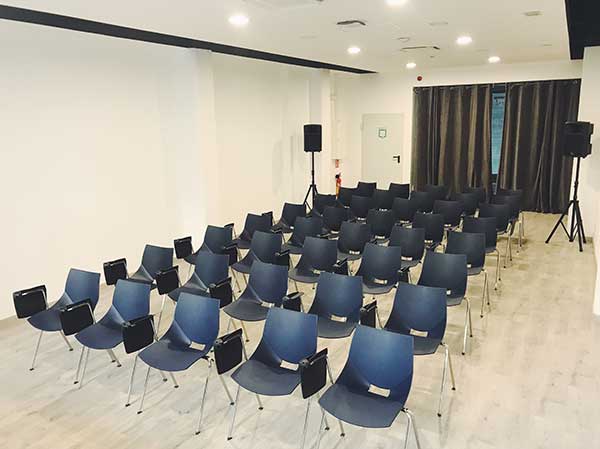 Why choose your Convention Room at GBC Business Center?
Because you have at your disposal a network of the group's business centres, where you can work or meet freely in our Business areas, all you have to do is identify yourself as a client and you will be able to make use of it at no extra cost.
Very close to Ronda de Dalt, with easy access and courtesy parking for visits to the same property.
Next to metro (Vallcarca), bus and railway stops (Av. Tibidabo) and 20 minutes from the airport.
Banks, post offices, supermarkets, clinics Delfos and Teknon, Campus La Salle Bonanova; all the advantages of working at the confluence between the districts of Gracia and Sant Gervasi.
Because we will be delighted to provide the best service and professionalism. From our experience we know that all this is transmitted indirectly in your business. Do you need more reasons? Try us for free, we know you won't regret it!
Why choose a conference room at GBC Business Center?
Our convention room has excellent access, specifically 3: to the street, to the GBC Business Center reception and to the 0 floor terrace. Its natural luminosity is what stands out the most.
Depending on the type of convention you need, we can make different types of configuration:
Imperial: The type of imperial table distributes the chairs around a rectangular table, so the eye contact with the user in front of you is greater. This type of meeting table is used for internal meetings, meetings or debates.
U shape: This configuration involves the presentation of U-shaped tables and chairs around the table, leaving one of its sides free. This type of distribution is usually used for training courses, job interviews (such as group dynamics), job presentations or presentations.
In school: At the school-type meeting table or training classroom, we distribute the chairs towards the front of the room, placing a table between the chairs, in order to take notes from the attendees.
In theater: This type of distribution is equal to the type of training classroom but without support tables. So all chairs would be placed linearly and frontally, to fix the view on the exponent or presenter. It is usually used for conferences, orientation talks or business events.
More options that may interest you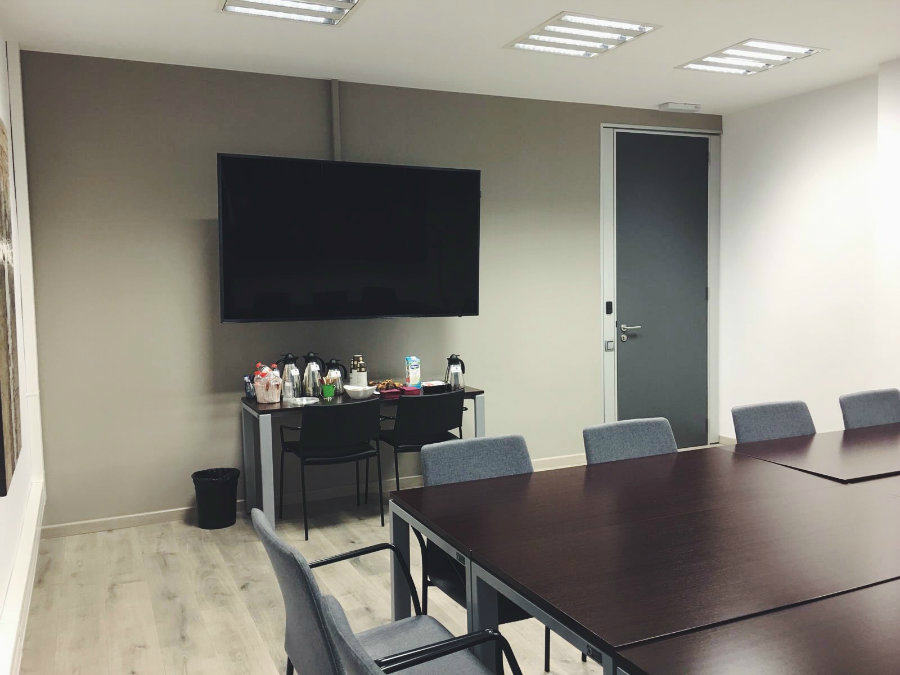 We have a multipurpose room ideal for training.
Our meeting rooms will allow you to interview your clients with the privacy and comfort you require.
In our space for Showrooms you can surprise your customers.